Definition of an Empty Net: When a team pulls the goalie for an extra attacker, desperately seeking a goal.

Audrey Parker was in a horrible place.

She hated her job, her sister was getting married and moving out, but worst of all, she was in love with a total jerk. No matter what she did, every guy she met hurt her. All she wanted was her happily ever after. Her Prince Charming. Her Lucas Brooks! She didn't know how to change her life but she knew she needed too.
Feeling like she was about to hit rock bottom, Audrey wakes up next to Tate Odder.

Tate Odder had lost everything.

After being brought up from the Assassins' farm team, the Florida Rays to the Nashville Assassins, Tate hopes he'll forget everything he has lost. He doesn't. Each day gets harder to live in a place he doesn't know. Even being the first rookie goalie to shut out an opposing team three times during the Lord Stanly Cup Finals, he still felt empty. With the loss of his parents and sister still heavy on his heart, Tate isn't sure how to live like everything is okay.

But when he wakes up beside Audrey Parker, things start to change. She turns his life upside down with her kooky sense of humor and her bright clothing. She is intelligent and beautiful, and for once, he doesn't feel empty.

Will Audrey be the person to fill the holes in Tate's heart, making him whole again?

Or will another player ruin everything, leaving him feeling forever like an empty net?
I have to start by saying I love Toni!!! She is awesome... and she's a great writer too!!! *giggles* I love Empty Net. We start out with the wedding of Fallon and Lucas, the couple from Trying to Score. Audrey Parker loves her sister but is jealous the she has found her Happily Ever After. She has dated jerk after jerk and wants to find her Prince Charming... can she overcome her fears and insecurities to see what is right in front of her?
Tate Odder, or as Audrey likes to say... Tater Ooooooooder, is a young player brought up from the minor hockey league team to join the Assassin's last year. He is dealing with losses of his own. How can he get Audrey to look past their age difference and see that he is the one meant for her?
I enjoyed watching Tate slowly break down Audrey's walls. Empty Net is full of humor, drama, and hot hot sex!!!! *fans self* I admit... there were times I just wanted to take Audrey and shake some sense into her. lol Please do not let the fact that this book is based on hockey. That is just a backdrop/career like in any other book. Toni has a way of also bringing in past characters into her books so you can see where they are and what's going on with them without the focus becoming theirs. I love catching up with Shea and Ellie. *sighs* Oh, Shea...
I give Empty Net 5 of 5 stars!!! I adored this book and am sure that you will too!!
Win an ebook from Toni Aleo!!!
Just leave a comment and your email and you're entered!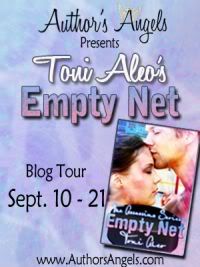 Thank you to Author's Angels!!